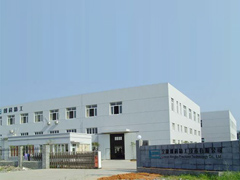 Locosc Precision located in Yongjiang Industrial Park, Ningbo City, which is the central industrial city of Yangtze river delta and sits in the beachfront of the East Sea with long history, comfortable environment, convenient traffic and complete facilities in China, connected in highways, airlines, railways and ports.

Locosc Precision always holds the business philosophy: "Mold craft, Pipelining production, Integration brand marketing, Global service" and introduce key technology from Germany, employ professional intelligent engineer through various channels, learn the management theory from consultation institution, import production devices and key parts. The factory covers 13,000 m2 for plant construction, the first stage takes 4500 m2 workshops which is being put into the production; the second stage takes 5500 m2 workshops which is already finished for future use. For time being, we have set up the load cell workshop, indicator and controller workshop, metal processing workshop, stamping workshop, painting workshop and assembling scale's workshop; also we have 3 pipelining production lines for load cell, weighing indicator and scale, which can guarantee the implementation of our enterprise strategy & policy " Product standardization, batching economization".

We always strictly follow and implement the Chinese Standard: GB/T 7551-1997 Load cell, GB/T 7724-1999 Weighing indicator & controller, GB/T 7722-2005 electronic platform scale, GB/T 7723-2002 Static weighbridge, QB/T 1078-1991 electronic hopper scale, GB/T 7721-1995 electronic belt scale, QB/T 2501-2000 gravity filling & batching scale, GB/T 15561-1995 electronic railway scale. We carry out the rigid test and calibration to our products according to the Article OIML R60&R76-1 and ISO 9001:2000 standard to our routine test and manufacture. All these measures can ensure our products "good performance, high consistency, well stability and better compatibility".

By our advanced technology, superior production equipments, reliable craft as well as standardized management, our products covers various fields like Petroleum & Chemical, metallurgy, chemical industry, port, building material, feed, paper, pharmaceutical, food and textile We always owe our success to your trust and the momentum to improve us through our product and service, we will always be on the way improving performance and reducing cost with our energetic passions.

We provide everything:
We develop & manufacture load cell, junction box, weighing indicator & controller, various scale & related parts.

We devote in:
We keep improving in developing, manufacturing, testing, quality control, service, packing and transportation.

We cherish our credit standing:
We build first-class e-commerce platform: convenient, rapid, efficient, precise, and serious.

Locosc Precision is looking forward to your cheering: Share in technology, Share in value.